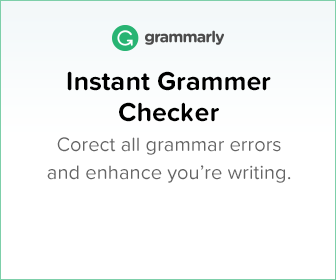 Despite having functional and stunning websites, many marketers are failing to achieve sales and conversions. In many cases, they encountered users filling the carts with items and leaving after some time. This phenomenon is known as an abandoned cart.
Abandoned cart rates have increased by almost 70%, according to Baymard Institute.
Another unfortunate truth is most business owners are missing out on revenue because they're not offering the right type of promotions to the right type of customer.
OptinMonster seems to have an effective solution to this. They have a huge variety of popups to offer the right coupons at the right time. From coupon wheels to exit-intent® popups to inactivity and geotargeted popups, there is a great OptinMonster coupon feature for everyone just waiting to be discovered.
By the end of this article, you'll fully understand how to effectively use coupon popups to get lot of revenue in return.
Let's jump in.
What Are Coupon Popups?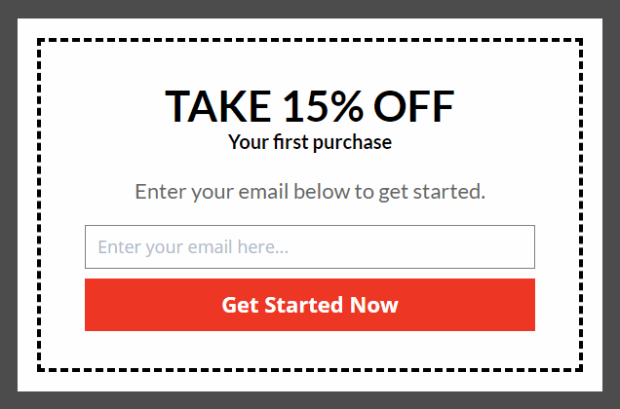 Popups are more or less like the last opportunity to retain the buyers in a website to complete the purchase.
Some of your website visitors will find intrusive popups annoying.
But with the right message at the right time, this feature is a smart way to potentially stop the visitors from leaving.
Hence, you need to make sure that the popups are tailored in accordance with the users' needs.
To render a seamless experience to users, we will use OptinMonster.
That's because OptinMonster has advanced targeting features, allowing you to show coupons on specific pages, to specific visitors, at specific times, and in specific locations.
Here's how it works…
Related Post: How To Create Coupon Popups in WordPress in Under 10 Minutes
6 Ways To Use Coupon Popups To Increase Your Revenue
Below discussed are some whip-smart ways to use popups in your website.
Reduce Cart Abandonment (Exit-intent Popups)
Exit-intent popups are a powerful tool to recapture the attention of potential buyers.
In fact, an exit-intent popup can improve both the bounce and abandonment rates at par. You can see more conversions within real-time.
However, timing is the hero here. If you drop a popup too early or too late, you are definitely going to turn-off the visitors.
Follow these tricks to keep them on the go:
Include attractive deals in the box
Provide free downloads and reports
Offer a coupon
Sign up for a free product trial
Remind them about the items in their carts
Book a free consultation call
On average, OptinMonster publishers see an average of 200 – 600% increase in email signups when they use exit-intent along with their content marketing efforts.
You can use marketing automation and an email autoresponder to convert these new subscribers into loyal customers.
OptinMonster's exit-intent popups work on WordPress, Shopify, Magento, BigCommerce, Drupal, Joomla, and pretty much every other website.
There are tons of exit-intent popup examples you can use to boost your conversions. OptinMonster has written about 40 exit popup ideas that you can use to grow your subscribers and revenue.
Related Post: How To Create Awesome Exit Coupon Popups That Drive Sales
Grow Your Email List
OptinMonster makes it easy to build attractive opt-in forms that convert. It has a large selection of opt-in popups, banners, and forms to increase email signups.
The plugin uses behavior detection technology to show visitors the right campaign at the right time. This ensures that the opt-in forms appear on your website at a time when visitors are most likely to join your email list.
Split-testing features further increase the effectiveness of these opt-in elements by giving you the ability to pinpoint the top performers.
You can also run a personalized campaign based on visitor locations, devices, site pages, and user activity.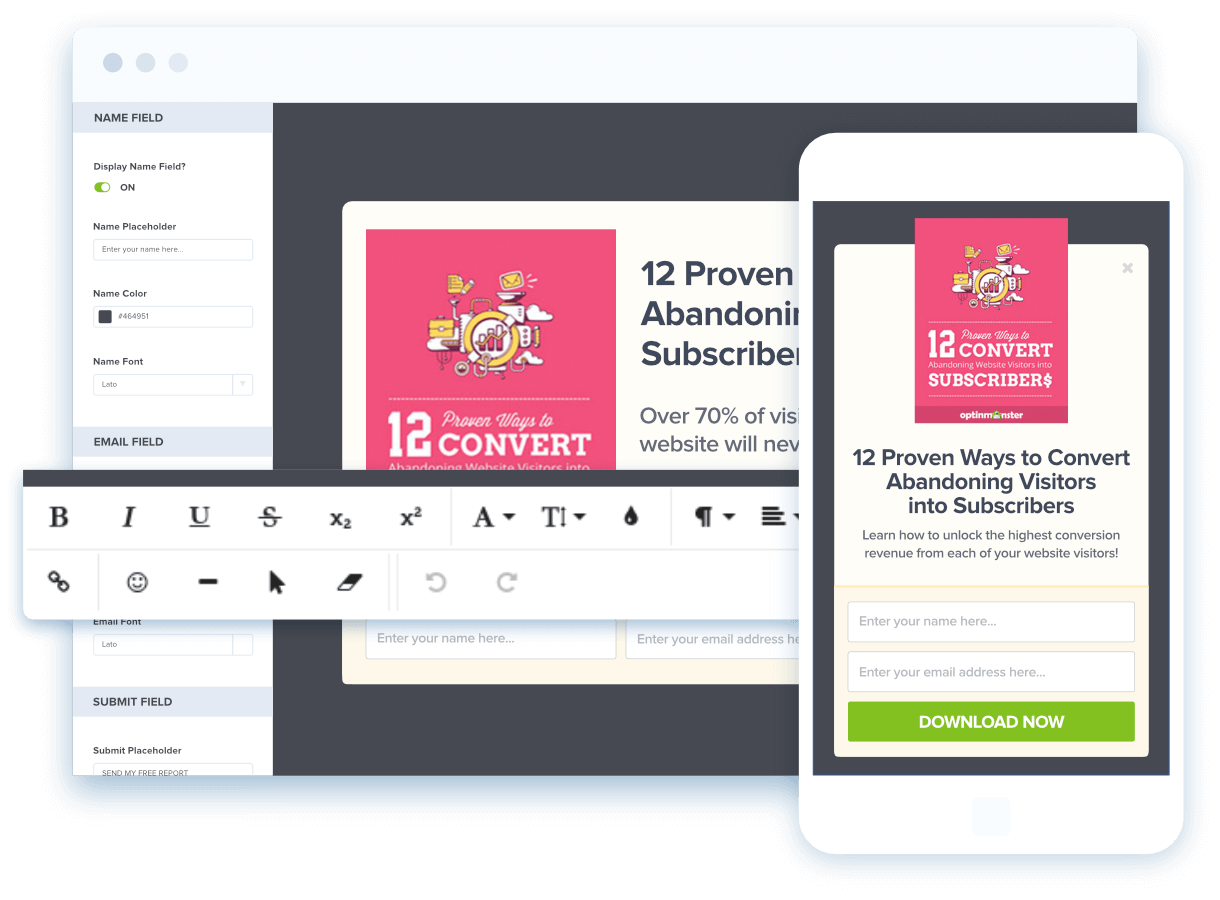 Increase Sales Conversions
Personalization features allow you to send customized messages, promotions, and product recommendations to visitors automatically.
OnSite Retargeting
This feature targets returning visitors with promotions and offers based on previous behavior.
It's one of the easiest ways to optimize promotional materials and a perfect way to send tailored offers to the parts of your customer base most likely to be responsive.
Increase Pageviews
OptinMonster will grow not only your email list but also the number of pageviews. You can redirect customers to high-performing pages and promotions with a simple, targeted "Yes/No" pop-up.
Create On-Site Follow-Up Campaigns
You can use this feature to build on-site follow-up messages that engage consumers when they're still on your website
For example, upsell by automatically suggest related products when a customer adds an item to their basket or cross-sell by offering a low-cost tripwire (small purchase) straight after they've entered their email address.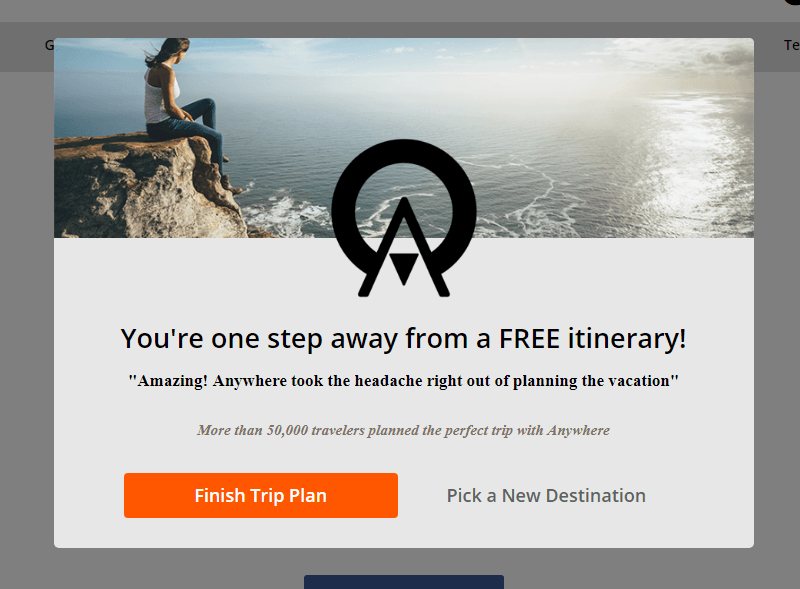 And that's it!
OptinMonster also includes a variety of smaller features, such as countdown clocks to create a sense of urgency.
You don't need a PPC agency to set it up; it's all simple.
So, what are you waiting for? Follow these several fun and effective ways to use OptinMonster and boost your sales to the core.
Interested to learn more? OptinMonster conversion experts will design 1 free campaign ($297 value) for you to get maximum results – absolutely FREE! Click the button below to get started.