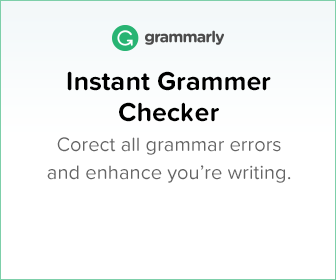 Do you want to design a coupon pop up in WordPress? Coupon pop-ups are a great way to keep your customers and improve the chances of conversion.
There are several tools for creating and displaying coupon pop-ups. However, showing the coupon at accurate timing makes an enormous difference in converting leaving visitors into customers. With OptinMonster, you can give coupons at the best time to the best audience.
In this article, we'll look at how to add a coupon pop up to your site using OptinMonster to make it more effective and highly profitable.
What Are Pop-ups in WordPress?
Having Coupon Pop-ups on your website is crucial as they show discounts that users need. It will always help you convert the user's mind to purchase the product.
Offering coupon codes also help you recover abandoned cart sales with its exit-intent® technology, convert visitors into customers to make more sales.
Usually, new business owners are not giving the best type of promotions to their customers so they are missing out on income. Established business owners know that offering a discount is a powerful way to get a visitor to decide to make an action, instead of being uncertain.
What's The Best Coupon Code Plugin For WordPress?
OptinMonster is the most powerful WordPress popup plugin in the market. Unlike other WordPress coupon plugin, OptinMonster works on with all the industry-leading eCommerce solutions like WooCommerce, Shopify, and others.
Since the launch in 2013, OptinMonster is now being used on over 1 million websites. It comes with a new drag-and-drop builder that lets you create popups from scratch or customize one of the existing templates.
You also get some very detailed targeting and triggering rules. You can target your popups by:
Page
Referrer
New vs returning visitors
Cookie
Geolocation
Device
Adblock usage
It's got a prominent feature called Smart Success that lets you present different offers to people who have already converted on one of your pop-ups. For example, if someone signs up to your list via a pop-up, you can give that person another offer in the future to avoid bothering them.
Creating a Coupon Pop up in WordPress
Install the OptinMonster WordPress Plugin
If you don't have an account yet, you need to visit the OptinMonster website to create one.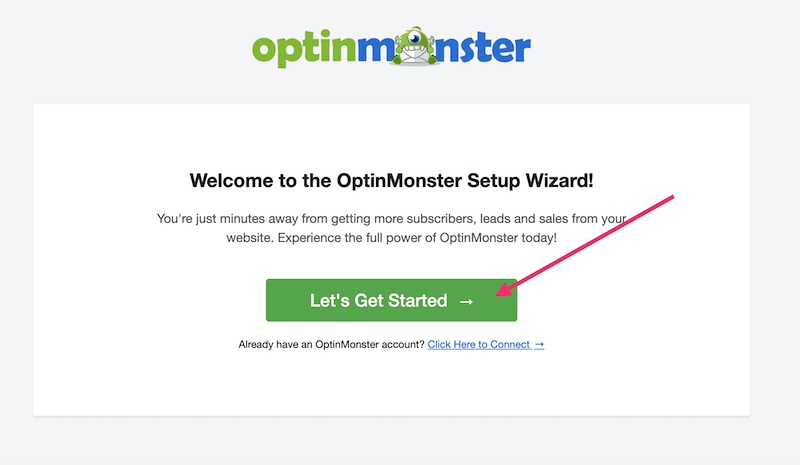 You'll be prompted to answer a few questions about your website. After you've answered those questions, click Create a Free Account.
Complete the registration form including your name, email address and credit card information.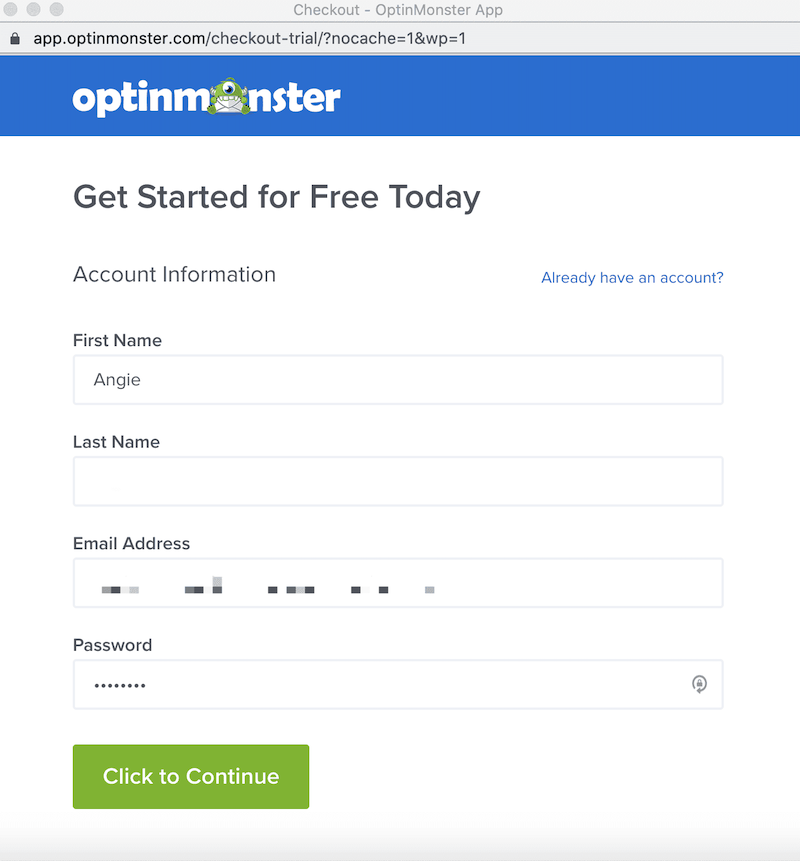 When you are ready to install the OptinMonster for WordPress plugin on your site, follow these steps:
Log into the admin of your WordPress site and navigate to the Plugins > Add New screen.
Search for "OptinMonster" and select the Install Now button. Once installed, click Activate.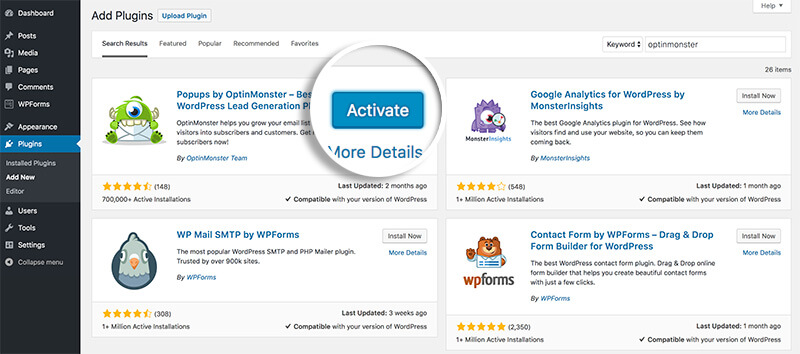 After you've activated the plugin, you will see a new OptinMonster tab within the left navigation of your WordPress website. Click OptinMonster, then click Launch the Setup Wizard.

You already have an OptinMonster account, so click the link that reads Click Here To Connect.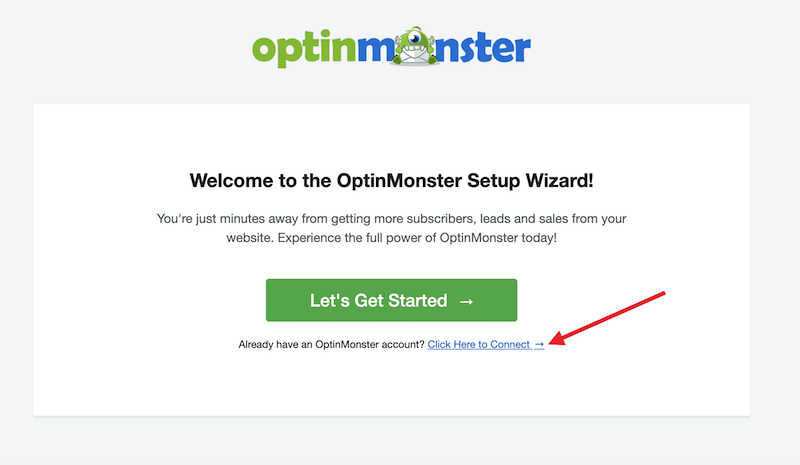 A pop-up modal will appear that will allow you to either login to your existing OptinMonster account, or to simply connect to the account you're already logged in to.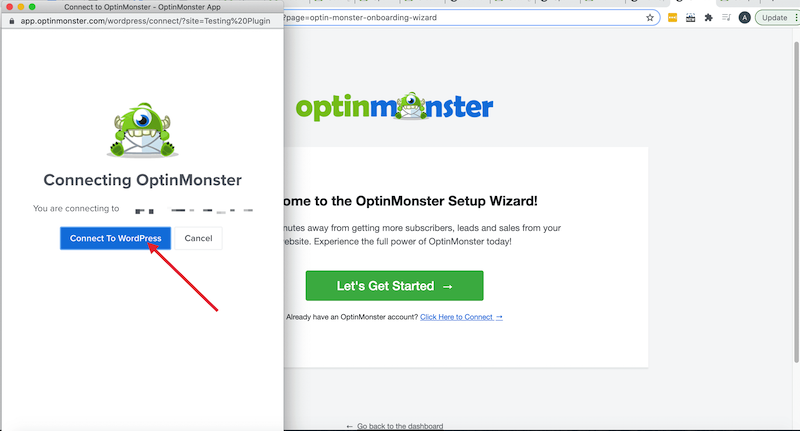 After connecting to your existing account, you'll be returned to the OptinMonster dashboard within your WordPress website.
Now you are all set to create your first coupon popup campaign.
Creating Your Coupon Popup Campaign
To create a campaign, login to your OptinMonster account and select the Create New Campaign button.
Next, you must choose the type of campaign. We're going to apply the Popup type for this post.
On the next screen, you will be asked to select a template.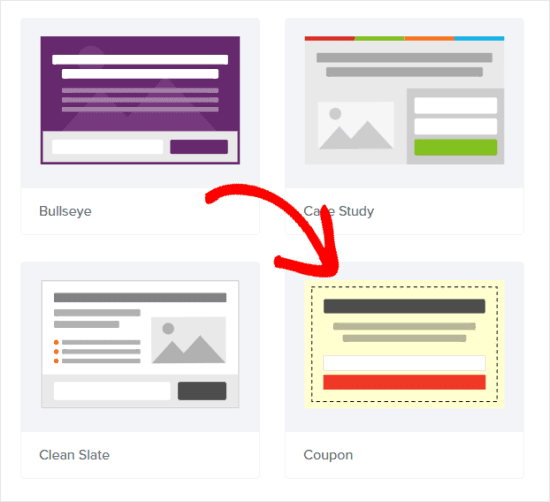 OptinMonster has a vast range of fully customizable templates. You can create your own form in HTML through Canvas Technology.
The Coupon template is perfect for creating a coupon popup, though you can choose a different template if you prefer.
Give your new campaign a descriptive title and assign it to the site(s) you would like for it to appear on. Click Start Building.
Designing your Coupon Popup
When you first enter the builder to edit your new campaign, you will see the Design View. This is where you can edit your campaign's text, fields, and other elements. You can use it to change the text, colors, and design of the coupon in whatever way you like.
Simply click on any element of the design to change it. You can change any of the text in the same way. Experiment with different fonts and colors. If you want to modify the background color, proceed to Optin Settings > Optin View Styles.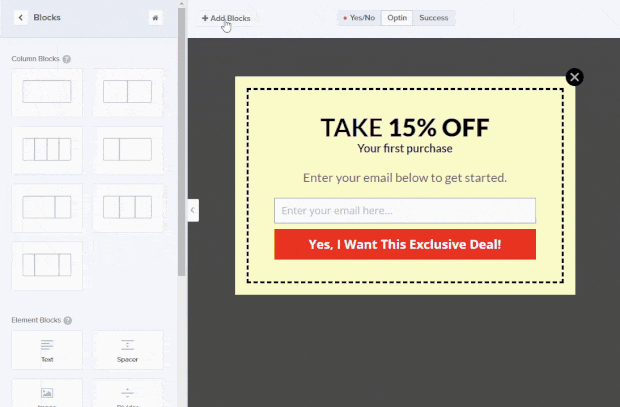 After editing your Optin View, click on Success above your campaign to view the Success View. This is what your visitors will see after they opt into your campaign, and you can tell them what to do or expect next. Click the Save button if you're satisfied with your work.
Delivery of the Coupon Code
Now that you've set up your coupon popup, you need to decide how you'll actually deliver the coupon code to your visitor.
Now, by default, your coupon code will reach your visitors.
You can check this by clicking on the button and then clicking Button and Action on the right-hand side of your screen.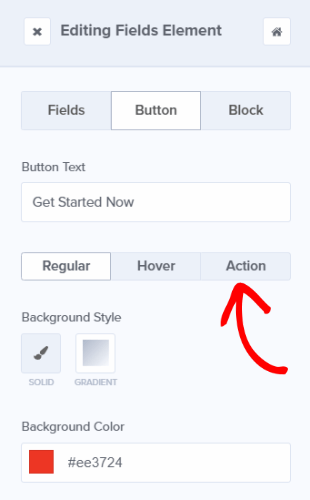 Select the drop-down below Form Success Action to see the available actions.
Type your URL to Redirect to a URL field to send your users back to a checkout page to use the coupon you're giving them.
Integrating OptinMonster With Email List
To send your coupon code out by email automatically and for the visitor to be added to your email list, you must integrate OptinMonster with your email marketing service.
To connect to your email marketing service, click Add New Integration.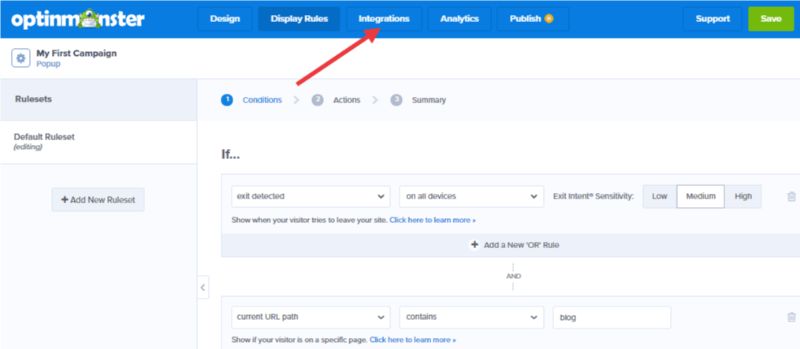 After that, you can set up an automated email to go out whenever someone signs up for the list through your coupon popup.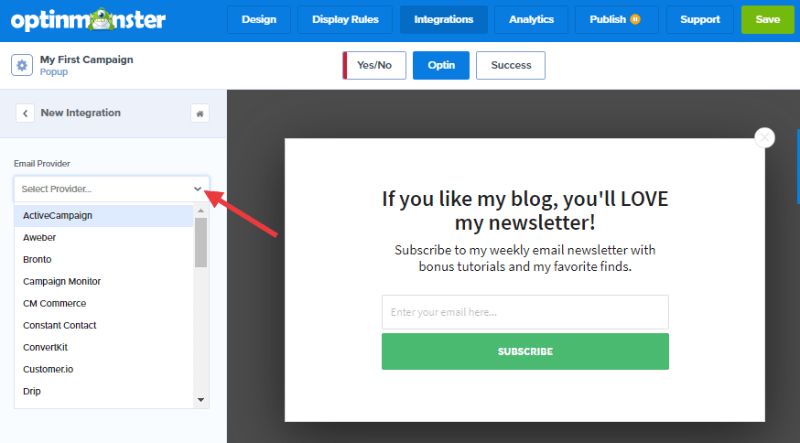 After connecting your integration for the first time, you'll be ready to immediately select your account and list from the drop-down menus for future campaigns. When you've finished connecting to your integration, click Save.
If you get stuck, look at the full instructions from OptinMonster.
Editing the Success View Template (Optional)
You can view and change the Success View template by going back to the Design tab of your campaign and clicking the Success option.
The default looks like this, but you can edit it in any way you want, just like you edited your coupon pop-up.
Checking/Changing Coupon Popup's Display Rules
By default, your coupon popup will appear to visitors after they've been on any page of your site for 5 seconds. This means that if a visitor is on any page of your site for at least 5 seconds, both of these conditions are met, and the campaign can show.
To change this, select the Display Rules View from the top menu of the campaign builder.
The display rules page will appear, where you can change any display rules accordingly.
You can set whatever display rules you like, but a great one to try out is Exit-Intent®. This special OptinMonster technology can tell when a visitor is about to leave your site and show them your coupon popup at just the right moment.
After setting the Display Rules for your campaign, click Save.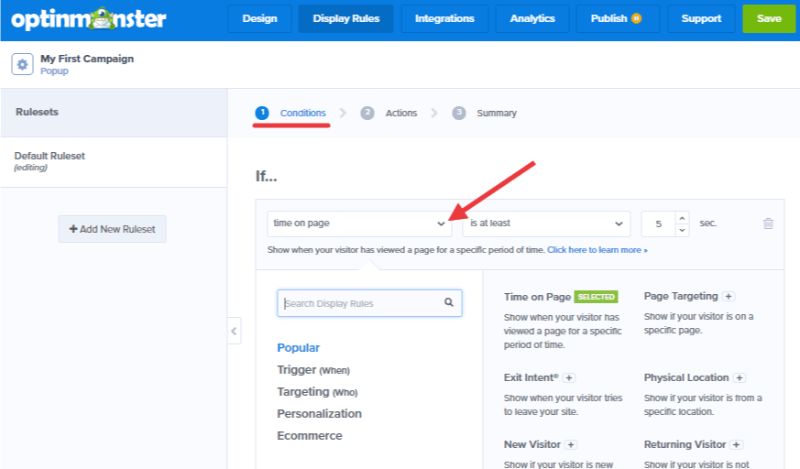 Publish Coupon Popup
Once you're done with your coupon popup, save it and click Publish in the menu at the top of the screen.

Do a final check to make sure that your campaign is ready to go. Check the right column's checklist for any grey circles next to items, letting you know that something is missing, or may need to be fixed before publishing.
Now, you need to make your content live. You can use the toggle button present on the top of your screen. Finally, Save your campaign.
Navigate to the Platforms area of the Publish View. You'll then see instructions on how to put your campaign live on your site.
Congratulations, you've created and launched your first OptinMonster campaign!
Final Thoughts
Clearly, OptinMonster is an impressive product that enables you to design WordPress pop-ups to help you gain more traffic and increase the conversion and sales rate of your website. Although expensive, it lets you add exciting offers, special discounts, recover your abandoned cart sales, and more, so OptinMonster is worth the price tag.
So are you ready to sign up with OptinMonster?
---
Thanks for reading! Comment below, I'd love to hear your thoughts! Below is a special pin for you to publish on your Pinterest board.