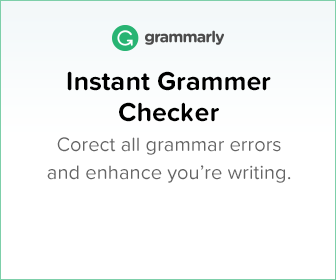 Did you know studies show that a 1-second delay in page load time can reduce the conversions by almost 7%? And 53% of visits are abandoned if a mobile site takes longer than 3 seconds to load?
Crazy right? A few seconds is all a website gets to make a good first impression which is probably why Google's Web Core Vitals is such a big deal. Website owners know they need to get their sites to load faster, but many are a little fuzzy on how to get there.
In this article, we'll show you easy hacks to improve WordPress site performance. Let's start!
What's Web Vitals?
According to Google, Web Vitals is a user experience signal that analyzes a web page's quality.
Webmasters keep them as a benchmark to give their users a superior page experience, to improve the site's web pages and overall performance.
The three metrics are LCP, FID, and CLS. 
Largest Contentful Paint (LCP)
LCP is a metric that calculates how long it takes for a web page's main content to load.
The faster your pages render content, the better you score on LCP.
A good LCP score means web pages load within 2.5 seconds. Loading times of 2.5 to 4.0 seconds can be improved, and anything more than 4.0 seconds indicates a slow LCP loading speed.
Slow server response times, excessive JavaScript, and CSS are common causes of poor LCP.
First Input Delay (FID)
FID refers to the time it takes for your website to respond to user requests. Google scores this by measuring the time it takes for your browser to execute commands from the moment a visitor interacts with page elements.
FID is applied to buttons, drop-down menus, forms, and other actionable blocks on your website.
The goal is to have your website instantaneously fulfill its functions on command. That's an FID of 100 milliseconds or less. Meanwhile, web pages with delays that last more than 300 milliseconds score poorly on this metric.
The reason for slow response times is usually JavaScript.
Cumulative Layout Shift (CLS)
CLS is a metric that measures visual stability. It tracks unexpected changes in the page content. The number of individual layout shift scores determines the final CLS ranking.
To help you visualize what CLS is about, imagine scrolling through a web page that hasn't fully rendered its content. As more things start to appear, there are usually one or two elements that change position or dynamically resizes.
Web pages that score 0.1 or less have good visual stability.
Poor CLS (anything above 0.25) is commonly due to images and videos without specified dimensions, dynamic embeds, and custom web fonts.
Why Speed Up WordPress Site?
If your website can load within seconds, it can greatly impact your conversions and the overall user experience. MonsterInsights is the best WordPress Analytics plugin. Get it for free!
It's mentioned above that having a slow website can frustrate your visitors. You'll have a small window to persuade them to stay or purchase your products or offers.
Besides that, speeding up your website is also important for your search engine rankings. According to Google, website speed is a ranking factor from May 2021.
So, how do you know whether your WordPress website speed is fast or slow?
How to Check Your WordPress Website Speed
The easiest way of checking your WordPress website speed is through MonsterInsights. It's the best Google Analytics WordPress plugin, and it also helps set up analytics without editing code.
You'll be able to see your site's performance on the dashboard, so you don't have to leave the website.
You can use the plugin to add advanced features like tracking lead sources, file downloads, adding global site tags, and more in just a few clicks.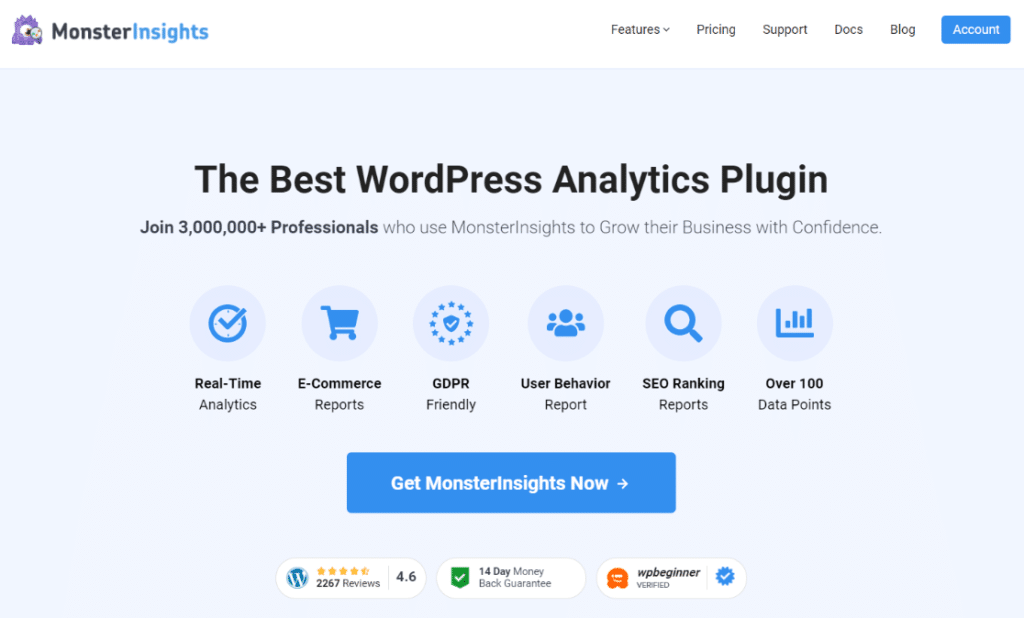 Learn how to install Monsterinsights through this post. Once the plugin is active, click Insights » Reports » Site Speed. You'll see an overall score of your website load time for desktop and mobile in the report.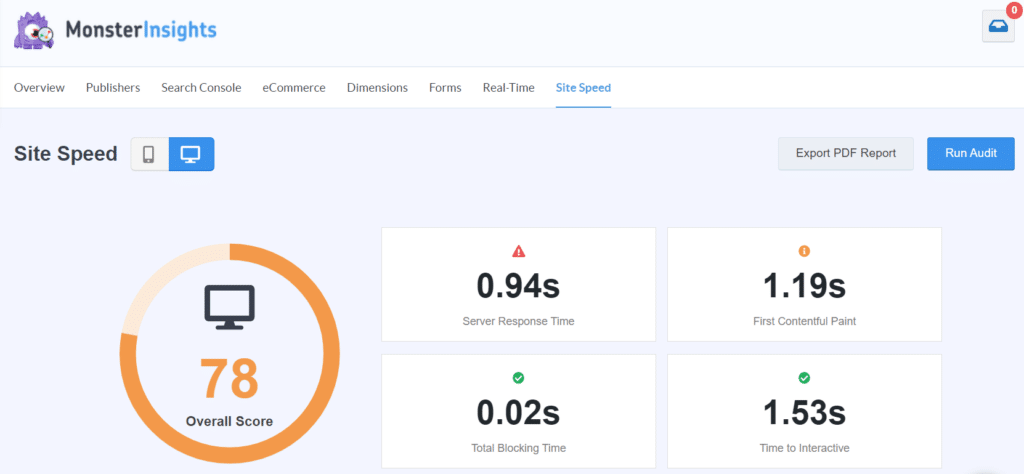 Now that you know how to check the WordPress website speed, let's look at some of the hacks to improve the loading time.
7 Tips to Speed Up Your Core Web Vitals 
1. Switch to a Dedicated Server
No matter how well you design and build your website, a slow server makes all your efforts worthless. It slows down all loading speed metrics, frustrating your visitors and hurting the user experience.
Problems usually arise in shared web hosting. Sharing resources with other websites can cause the server to become overloaded. It also increases the vulnerability of your website to hacking attacks.
If you suspect a faulty server, you have two options: upgrade your hosting plan or find a new provider. Dedicated servers are preferred because they provide superior performance, security, and customization options for software and applications.
Top shared WordPress hosting services like Bluehost or DreamHost ensure that you get the best performance and fast website speeds.
2. Optimize Images
The best way to optimize your images is to reduce their file sizes. You want to use the right tool for this and the appropriate image format to maintain quality.
To optimize your images, you can use different image compression tools. For example, Optimole is a free tool that compresses PNG and JPEG images.
Alternatively, you can use an image CDN (Content Delivery Network) to reduce the load on your server. It works by optimizing image specs based on the device model and delivering cached content from previous requests made by similar devices. In doing so, image CDNs speed up web page download time by up to 50%.
3. Remove Non-Critical JavaScript and CSS
JavaScript and CSS (Cascading Style Sheets) make web pages more appealing, but they also consume a lot of bandwidth when used excessively. Deferring non-critical JavaScript and CSS helps load the main content of your website as quickly as possible.
Additionally, make it a habit to check for junk code and removing them from your script.
A quick way to fix this is by using the WP Rocket WordPress plugin. It offers features to optimize your site for JavaScript and CSS.
You can enable these options, go to Settings » WP Rocket and then click the File Optimization tab. Now scroll down to the CSS Files and JavaScript Files section and enable all the options to get maximum performance.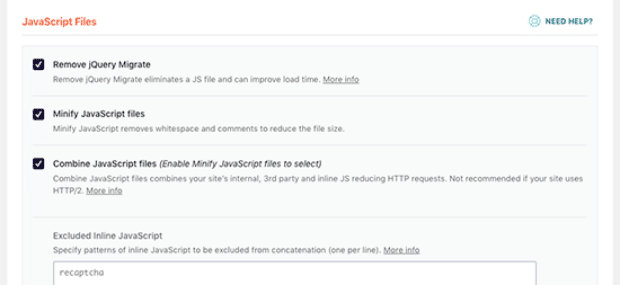 4. Use a Fast Loading WordPress Theme
When choosing a WordPress theme for any your WordPress website, there are many aspects that the user looks for.
Many WordPress themes are visually stunning, but they are poorly coded and can significantly impact your load times.
To pick the right theme for your website, select one that's simple and clean. Choose an extremely high-quality theme, which means that these themes have now been installed on millions of websites. 
A good place to start is looking at premium WordPress theme shops like Astra Theme, Elegant Themes, and ThemeIsle WordPress themes. These are trusted theme shops that offer themes that are optimized for speed.

5. Deactivate Plugins You Are Not Using
Having a lot of plugins you're not using will cause your server to collect unnecessary junk files.
Freeing up space on the server will help it use its resources more effectively and speed up the website. It also reduces the size of backups while putting little strain on the server.
To deactivate plugins, go to the WordPress admin area and then click on Plugins. Next, scroll down to any plugin that's no longer needed and click the Deactivate button.

6. Set Dimensions for Images and Videos
We've probably all been to a website where an image or video doesn't appear proportional to the web page. These kinds of websites perform poorly on CLS.
To avoid this, specify the height and width of images and videos before publishing them.
It also works to simply set the width of these elements and let the browser calculate the height on its own.
7. Run Backup Plugin During Low Traffic Time
Backups use a lot of server resources, which can degrade the efficiency of your website.
Since backups can slow down your website, you should do them when there isn't much traffic. This way, your visitors won't feel a dip in performance, and your important data will remain secure.
For instance, instead of running backups every day during peak traffic hours, you can schedule them to run on specific days and at a specific time.
BoldGrid Backup offers an automated backup solution powered by BoldGrid, a WordPress website builder and considered one of the best WordPress backup plugins.  
Conclusion
Although the Core Web Vitals seems to be a difficult concept to grasp, reaching a perfect score is not impossible. It will improve the user experience and increase conversions. 
People will either leave your site and visit your competitors, or they will keep they'll keep clicking on your webpage in frustration. 
According to Google, the average page load speed of web pages on mobiles and desktops must be 3 seconds. With this new ranking factor, website owners must prioritize user experience above everything else. Failing to do so will lead to consequences like losing web traffic and SERP rankings.
And that's it!
We hope this article helped you learn some of the best hacks to speed up your WordPress website performance. You may also want to check out our guide on how to set up conversion tracking in Google Analytics.
Some links may be affiliate links. We may get paid if you buy something or take an action after clicking one of these. As an Amazon Associate, I can earn from qualifying purchases. Read our privacy policy for more information.
By using the affiliate links, you are helping support the website. Thank you.