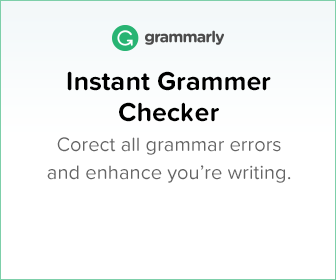 Grammar Checkers are a must for users who write almost anything. One of the best grammar checking tools available these days is ProWritingAid. Whether you're crafting an email or writing an essay, this tool allows you to effectively write error-free content and improve your writing strengths.
I found ProWritingAid recently, and it helped me a lot in composing my articles. I've had subscribed to their premium plan. What I love about this software are its affordable price and quality service. I also found the add-ons to be very helpful to make sure my writing is professional everywhere.
I know that sometimes, new users are unsure how to get the best version of this tool. In this post, I'll provide everything you need to know about ProWritingAid and we'll discuss the steps you need to follow to get the free trial version so you can figure out whether ProWritingAid is the right tool for you.
What is ProWritingAid?
ProWritingAid is a world-class grammar checker, style editor, and writing mentor in one package. This tool gives more in-depth reports to help you strengthen your writing. Their unique combination of suggestions, articles, videos, and quizzes makes writing fun and interactive.
You will become a better writer with ProWritingAid. Plus, their prices are cheaper compared to other grammar checkers.
ProWritingAid Features
When it comes to looking at the features available in it, the list is so long, and the user will figure it out easily. These are:
Better Writing in Less Time
Improve your writing quickly and efficiently with 1000s of grammar, spelling and readability improvements delivered in real-time as you write.
Access In-Depth Writing Reports
ProWritingAid has more writing reports than any other editing software. The editing tool highlights elements like repetitiveness, vague wording, sentence length variation, over-dependence on adverbs, passive voice, over-complicated sentence constructions, and so much more.
Improve Your Writing Style
It will correct all the issues in the content, including passive voice.
Learn as You Edit
In-app suggestions, explanations, videos, and quizzes help you build your skills as you write.
Eliminate Embarrassing Errors
Nothing makes a writer lose credibility faster than spelling and grammar mistakes. Submit clean, error-free writing.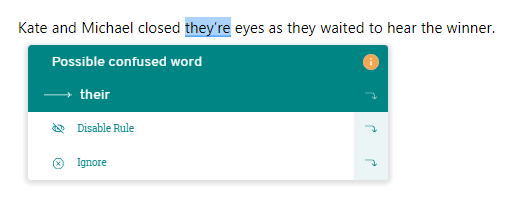 Find the Right Words
One can use this tool to check out overused words, incorrect tense, sentence length, duplicate words and phrases, readability, abstract words, and sticky sentences.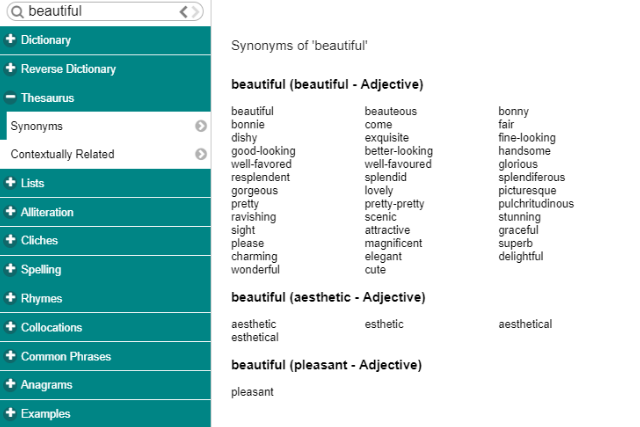 Customize ProWritingAid to Your Specific Needs
ProWritingAid allows individuals and organizations to create their own style guides and dictionaries. Automated rules and suggestions help ensure consistency across you and your team.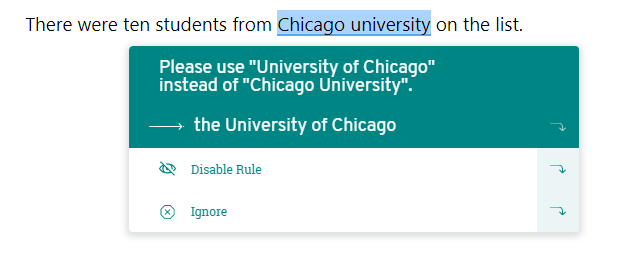 Data Visualization Provides In-Depth Understanding
It will generate reports to get a clear idea of what you need to change and clarify.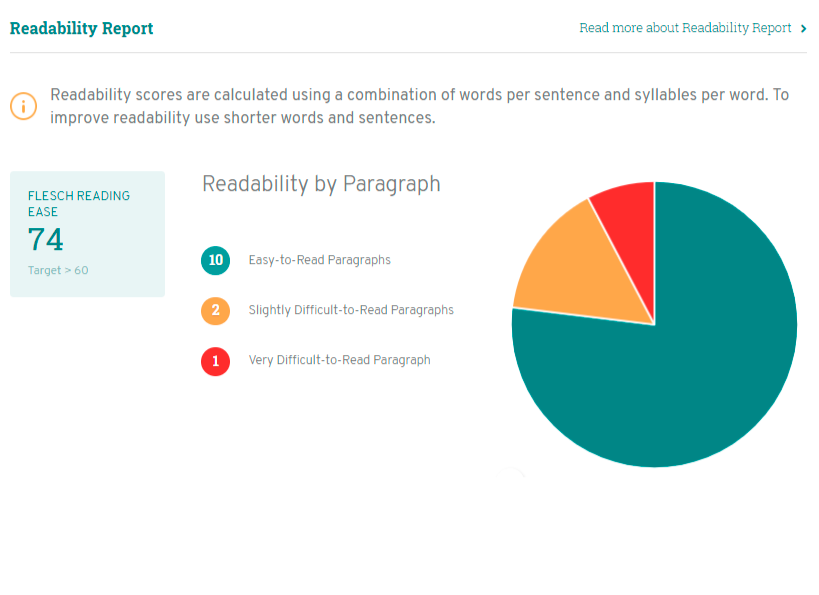 ProWritingAid Free vs. Paid Version
ProWritingAid is a freemium tool. There are many additional features with the paid subscriptions.
The features available in the free version include:
Summary Report on Key Issues
19 Writing Reports will be available
No access to desktop version
Edit 500 words at a time only
Use online only
The features available in the premium version are:
The features available in the free version are available in the premium version.
There is no word limit
Access to desktop version

MS Word, Google Docs, Chrome, and Scrivener

integration
Apart from the free and premium version, the plus version is also available. And certain features are part of plus version and excite a user every time.
The features available in the plus version are:
All the features are available in premium and free versions available.
A user will check Plagiarism and per year day can check 50 files.
For an academic point of view, it is a perfect choice to have.
ProWritingAid offers consumers with a lot of premium services. The plans can be quite expensive for anyone to invest straight away. As a knowledgeable customer, try the free trial.
Steps to Getting ProWritingAid Free Trial:
Users can enjoy these extra services through a one-week free trial. One needs to have a working ProWritingAid account to use these free trial services.
The steps you need to follow to get the trial version for free are very simple. These are:
First, visit the website prowritingaid.com. It will take you to the official webpage. Here you can find vital information about the writing software. We are going to use this platform for our sign up.
On the homepage, click on the "Try Free" button to get started with your free trial.
The web page will redirect you all to the sign-up page for their official website. Create a new account on the site using your email ID and password. Accept the terms and conditions. Users also need to verify their email once the sign up gets complete.
Voila! You have now successfully signed up for a 7-days free trial ProWritingAid subscription.
How Do You Use ProWritingAid?
As request for free trial, they will send you an email and you just need to click the link. The license will be activated automatically. Now you can enjoy creating and saving grammatically correct documents. The web editor opens up a document editor on your browser itself.
How Do I Cancel ProWritingAid?
You can try ProWritingAid risk free for 7-days. The support team will happily refund your payment if you're unhappy.
ProWritingAid Integrations
ProWritingAid have the services available for:
Who Uses ProWritingAid?
Fiction/Nonfiction Authors
Many writers use ProWritingAid to show faultless short stories or novels.
Bloggers and Content Writers
Target international audience, build your profile, earn income through affiliate marketing, hone your writing process, and get their ideas out into the world by writing perfect articles.
Students
ProWritingAid helps keep your work original and makes the writing process quicker and easier.
Business Writers
Write concise reports, emails, applications, pitches, or presentations that clearly get ideas across to colleagues and clients.
How Much Does ProWritingAid Cost?
The paid version of ProWritingAid comes with 2 types of plans:
Premium: This is useful for bloggers, students and professionals. The prices currently sit at $20 per month, $63.20 yearly subscription and $319 lifetime subscription. (Until Jan. 5, 2021)
If you want to add plagiarism checker, you must avail the Plus version. Premium Plus includes all the same features as Premium, and 60 plagiarism checks per year. The prices currently sit at $24 monthly, $71.20 yearly, and $399.20 lifetime subscription.
While you may feel that the prices are expensive, consider placing a value in a virtual editor, grammar checker, and writing editor, all at once.
You could always try ProWritingAid for free, in case you want to try it out. If you are a regular ProWritingAid user and want to upgrade, go for the premium plan, Like I Did!
ProWritingAid Discount
How Good is ProWritingAid?
ProWritingAid is a reliable and accurate spelling and grammar checker. Anyone can use it to improve their writing and find and fix mistakes and typos. It also includes a useful plagiarism checker.
If you work on longer bits of texts, you can upgrade to Premium to make use of unlimited word counts.
ProWritingAid takes just a few minutes to install and even less time to use. If you're someone who writes anything at all, then I highly recommend adding ProWritingAid to your toolbox.
But What About Other Grammar Checkers?
ProWritingAid isn't the only tool of its kind on the market. There are several very good grammar checkers available, both for free and a fee. I've used several of its competitors, but ProWritingAid is the one I use now.
ProWritingAid's sole purpose is to help your written communication be error free and as professional as possible. The team designs every feature for the writing process and keeps the tool updated with the latest technology and trends.
While it's not perfect, it absolutely, easily catches more errors than any other tool I've found. And since that really is the whole point of grammar checkers, that fact alone is enough to make me a ProWritingAid fan.
Should You Upgrade to a Paid ProWritingAid Account?
The answer is yes. But, if you are tight on a budget, then the free version of ProWritingAid is perfect for you. It works in all the platforms you write text.
After spending a fair amount of time with both free and premium version, I found that ProWritingAid has a buildup of decent grammar, sentence structure, word choice and more to help you become a better and concise writer in no time. The only drawback I found is that browser extensions and add-ons are only in the paid version.
If you want to try ProWritingAid for free, here's the link:
BONUS:
FAQs
How can I get ProWritingAid for free?
Go to the official ProWritingAid official site. On the home page, click on the Try For Free button.
Is ProWritingAid free?
Yes, you can avail a free version of ProWritingAid. However, the free plan restricts you to 19 writing reports, 500 words at a time, and online-only use.
Is ProWritingAid better than Grammarly?
Both grammar checkers have good proofreading accuracy. If price is a concern, go with ProWritingAid.
How much does ProWritingAid cost?
ProWritingAid pricing starts at $79.00 per year, per user. But if you're tight on a budget, ProWritingAid offers a free version for a lifetime.
Is ProWritingAid Safe?
ProWritingAid implement a variety of security measures to maintain the safety of your personal information when you use their software. So yes, it is safe. Read more about their privacy policy here.
How do you install ProWritingAid?
To install ProWritingAid, run the file ProWritingAidDesktopSetup.msi that you downloaded. Follow the instructions on the installer. Then open ProWritingAid through the start menu.
Does ProWritingAid work on Mac?
Mac users can use ProWritingAid online using the online editor; in Google Docs, and on desktop. Microsoft Word for Mac doesn't support advanced add-ins, but if you want to edit your Word document without losing your formatting, then you can use the desktop app.
How do you use ProWritingAid on Google Docs?
ProWritingAid on Google Docs uses your email address to connect your premium version. Ensure that the email address on your ProWritingAid account is the same email address that you are using in Google Docs. 
Can I use ProWritingAid offline?
Unfortunately, no. You need an internet connection to use ProWritingAid.
Does ProWritingAid offer a student discount?
Yes, ProWritingAid offer a 20% student discount. To avail, go to https://www.whenyoublog.com/go/prowritingaid-student-discount/
Thanks for reading! Comment below, I'd love to hear your thoughts. Below is a special pin for you to publish on your Pinterest board.
Some links may be affiliate links. We may get paid if you buy something or take an action after clicking one of these. As an Amazon Associate, I can earn from qualifying purchases. Read our privacy policy for more information.
By using the affiliate links, you are helping support the website. Thank you.