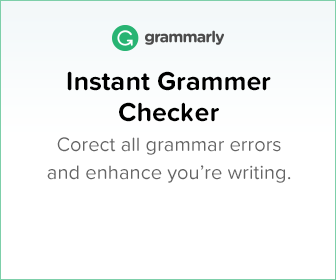 For many website owners, the contact form is one piece of a larger marketing and customer management system involving multiple services. You might send support requests into HelpScout, add interested readers to your mailing list, or create a new lead.
A contact form can be an great way to enhance user experience, boost sales, and generate leads across your site. For today's tutorial, we'll be using WPForms. The great news is that it already have add-ons that integrate with email marketing services, like MailChimp.
MailChimp is a top choice for email marketing providers for many small businesses for over 20 years. You get to send stunning emails with a lot of advanced features.
Now that we know why contact forms are such a great addition to your WordPress site, check out this step by step guide on how to add one to your website.
But First, Why Do You Need To Build An Email List?
Emails are the best way to build relationship with your website visitors.
In 2021, especially in the time of pandemic, email lists need to be built one connection at a time.
Without an email list, you're spending time, effort, and money reaching out to an audience with zero results. Your visitors read an article, leave and never return.
HubSpot estimates that 99% of your visitors won't be ready to buy on their first visit to your site. Without capturing your visitor's email addresses, you're focusing all your efforts on just 1% of visits.
What Is MailChimp Used For?
These days, you can't just send bulk emails using Gmail or Outlook, you'll soon get shut down for spammy activity.
There are regulations including being able to opt-out of emails, making it clear that customers are signing up for your service, and including your address. 
Email marketing service providers make sure you follow these laws and restrictions.
Signing up with a provider such as MailChimp is the only solution if you want to build an email list and turn some of those site visitors into customers.
How to Add a Contact Form to WordPress
Step 1: Download and Install WPForms
WPForms is the best contact form plugin for WordPress used by millions of users. It's easy to set up and make a simple sign-up form without any branding.
So, first, let's head to your plugins library and install/activate the plugin called Contact Form by WPForms, pictured below:
You will get a new WP Forms tab in your dashboard. In this new area of your dashboard, click Add New.
WPForms gives us a default Newsletter Signup Form. This free email form is the perfect fit for our job today.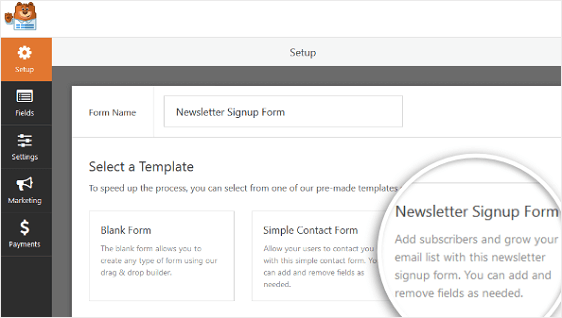 Step 2: Edit and Customize Your Form
Okay, now we are in the WPForms Builder.
There are a million features you can edit.
You can add additional fields by dragging them (like single-line text, dropbox options, multiple-choice options, and so on), then you can simply drag and drop them into place.
I recommend adding a GDPR Agreement—this gives your visitors an explicit way to agree to you keeping their personal information and sending them email marketing newsletters.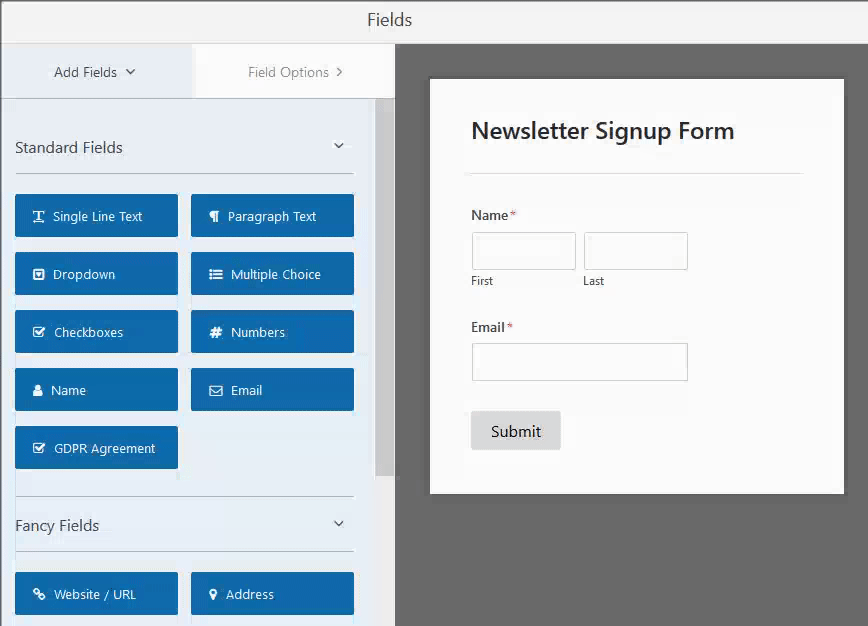 Once you enable the GDPR , keep on customizing!
Once your form is looking good, just hit SAVE.
Nice work, you new email marketer you!
Now, you might want to hook it up with your email service provider (ESP). That way, you can keep everything organized as you add new leads to your list.
Step 3: Connect Your Form to Mailchimp
Integrating WPForms with your email service provider (ESP) couldn't be easier. In your WPForms menu, click Marketing.
You'll see a list of ESPs on the left-hand side, such as Constant Contact, GetResponse, SendinBlue, and many others.
For this tutorial, we'll be using MailChimp. You can get started totally free, and it works out-of-the-box with WPForms.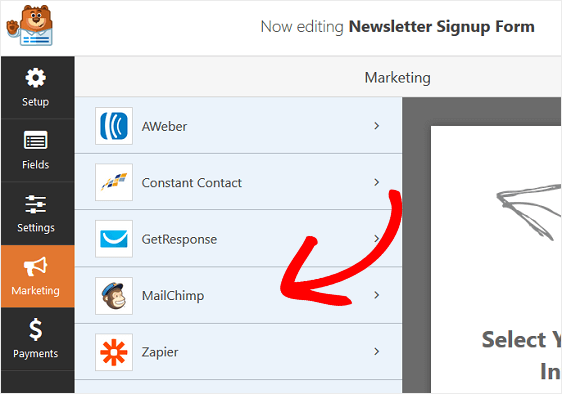 Note that some of these integrations are for Pro plans and higher. If you want to upgrade to sync your ESP, you'll get 50% off the Pro plan just for having started with WPForms Lite.
Then click Add New Connection. Name this connection then click OK.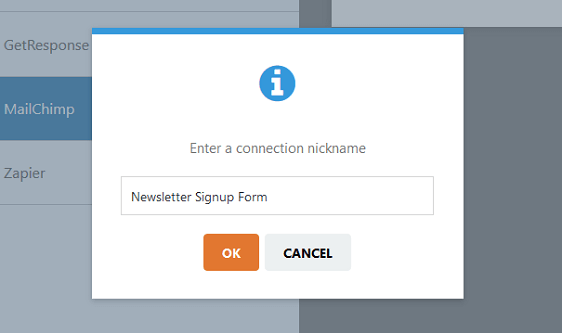 Step 4: Add API Keys
On the next screen, Add your Mailchimp API Key by signing in to your Mailchimp account.
Then, go to Your Profile » Extras » API Keys.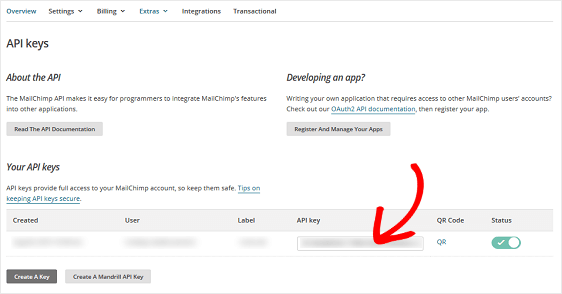 Copy and paste the code inside the WordPress screen. Then confirm by clicking Add New Connection.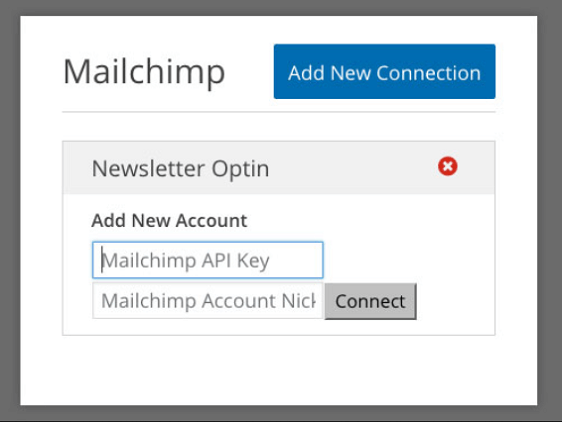 After you enter your API key, select your Mailchimp account and click the email list you want people to be added to when they subscribe to your forms.
Enable conditional logic and double opt-in if you want.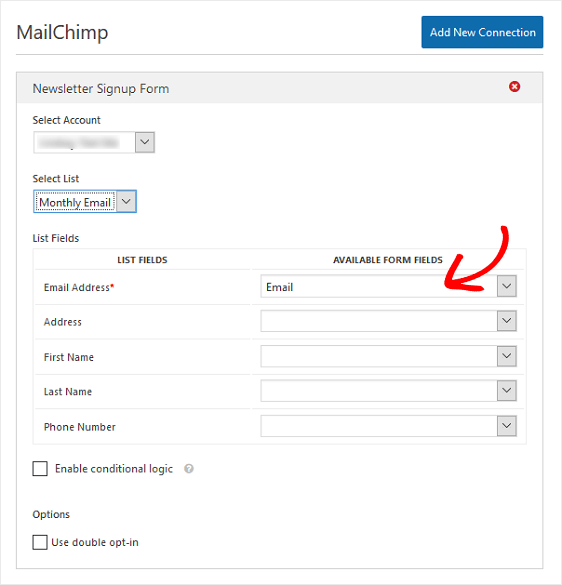 After configuring these settings, click Save.
Step 5: Add Your Mailchimp Form to Your Site
After you've made your Mailchimp subscribe form, you need to add it to your website using a shortcode or WPForms block.
In your WPForms main menu, you'll see a list of the forms you built along with the shortcode for that form. You can then add this shortcode to your posts and pages just like you would use any other shortcode on your site.
To add using Gutenberg blocks, click Add button, search for WPForms then you'll see a list of the forms you have built. You can select your contact form from the drop-down menu.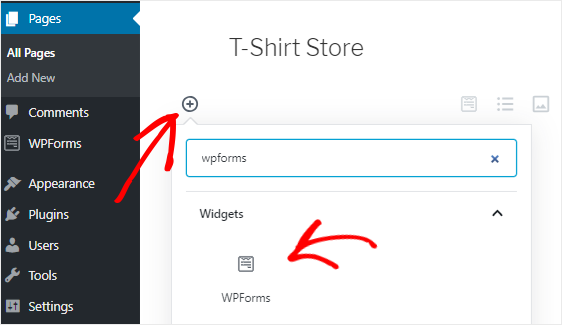 Lastly, display Mailchimp subscribe form by publishing your post or page.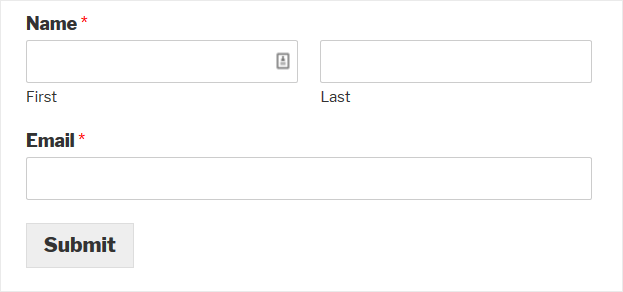 Now, finally, you're all set! When people pop in their name/email address in your form, they'll get signed up to your list, and will subsequently get your email! Your process to start a successful email marketing newsletter is underway!
Conclusion
I've been won over by how easy it is to create wonderful-looking newsletters using WPForms and Mailchimp. This email marketing services is jam-packed with features and ideal for small businesses or bloggers looking to send attractive newsletters.
Frequently Asked Questions
What can MailChimp do?
MailChimp is an email marketing solution that allows you to connect with your customers by collecting email addresses and sending newsletters. 99% of visitors to your site aren't ready to buy and could leave, never to return. Using MailChimp signup forms and landing pages, you can engage these visitors, send targeted emails, and convert visitors into buyers.
How expensive is WPForms?
Plans start at $39.50 per month. You can enjoy a WPForms Lite for free. WPForms is easy to use; it allows you to create smart online forms with just a few clicks without writing a single line of code.